Description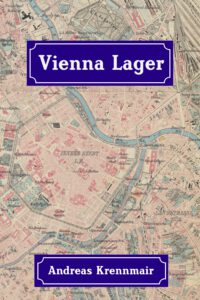 Vienna Lager is an outstanding example of a revolution in beer brewing that started in the 1830s. When Austrian brewer Anton Dreher travelled to England and Scotland, he learned about British brewing technology that was mostly unknown in Continental Europe at the time.
With this knowledge and a lager yeast sample from his friend and travel companion Gabriel Sedlmayr from Munich, he founded a brewing empire that started a revolution of pale, cold-fermented beer across Europe and the world. Thanks to Vienna Lager's popularity in the United States during the 19th and 20th century, it survived even when it had fallen out of fashion in its country of origin and became a classic style that is still brewed and reinterpreted by brewers around the world.
The book not only tells the story of this beer type in great detail and dispels many myths around it, it also explains – based on historic sources – which ingredients were used to brew the beer, what the brewing process was like, and what the beer looked and tasted like. The book also comes with a number of recipes that explain how home-brewers can recreate both authentic, historic examples and modern versions of Vienna Lager at home.
Reviews
Highly recommended and, if there's any justice, the inspiration for a Vienna Lager revival in 2021.

— Boak & Bailey, Self-published eBooks are the future of beer writing, July 11, 2020
What Andreas has done here is write the definitive guide to Dreher and his Vienna Lager, and made a valuable contribution to knowledge of the development of pale lager in general.

— Alistair Reece, Book Review: Vienna Lager, August 13, 2020
Ordering
This book can be ordered exclusively on Amazon worldwide.
Printed book:
e-book:
Table of Contents
Introduction
The History of Vienna Lager in Europe

Anton Dreher's Early Life
A Journey to Great Britain
Building a Brewing Empire from Scratch
From Father to Son
Vienna Lager and Czech Brewing
Vienna Lager and Oktoberfest-Märzen

Jumping the Atlantic: Vienna Lager in North America

"Wiener Beer" in the United States
Mexico
Conclusion

Modern Vienna Lager

Modern American Vienna Lager
The Revival of Vienna Lager in Austria

Retracing Historic Vienna Lager

Malt
Hops
Water
Yeast
Mashing, Boiling, Fermentation
The Question of Colour

Vienna Lager Recipes

About the Recipes
Historic Vienna Lager (1870s)
Historic Vienna Lager Adapted to Modern Ingredients and Practices
Wiener Abzugbier (1894)
"Wiener Blut"
Vienna Lager (1986)
Glen and Julie's Vienna Lager
BrewAge: Vienna Lager

Appendix A: Historic Specifications and Analyses

Analyses from 1876 by Professor Franz Schwackhöfer
Grundzüge der Hygiene, 1892

Appendix B: Hop Production Statistics in Austria-Hungary 1891-1918
Appendix C: Beer Production by Viennese Breweries 1860-1894
Appendix D: Beer Colour Conversion Chart and Equations

Conversion Formulas Between Colour Units

Appendix E: Historic Units
Glossary
Acknowledgements and Dedications
Bibliography
Media