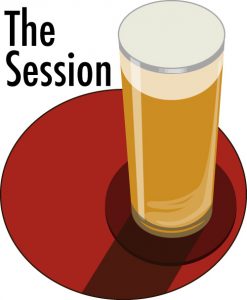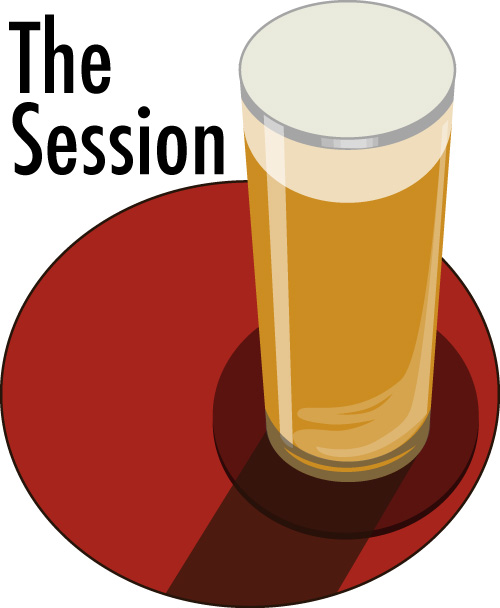 This is my contribution to Session 132 (aka Beer Blogging Friday).
My homebrewing "career" started in December 2012, when my girlfriend (now wife) and I decided to just try out brewing with an electric preserving cooker and a mash bag. The first beer was not great. I got a terrible recipe from a German homebrewing website which was described as a Bass clone. In retrospect, now that I know more about beer, it was completely misguided, as it used Vienna malt as base malt and German caramel malt, didn't prescribe a specific hop variety nor a specific yeast. Luckily, I bought East Kent Goldings, not that I had heard about the variety before, but because the name sounded good to me, and Wyeast 1318 "London Ale III" yeast because hey, it was advertised as an English strain. We bottled the beer way too early, so it turned out way overcarbonated. I may have also overdone it with the hops, so it was very bitter, but in a pleasant way. In total, there was something about it that reminded of a typical German brewpub beer. My wife usually mentions this early period as the time when all our beers had "this homebrew taste".
Despite these issues, we didn't give up brewing, but continued with a stout (bought as an all-grain kit) and a Hefeweizen (also an all-grain kit), both of which turned out okay. The fourth beer was a special one, though. I was confident enough to somehow come up with a recipe myself, and I wanted to brew an IPA: not for us, but as a wedding present for a friend of mine who had spent three months in San Diego just a few months earlier. I read up on which hop varieties and which malts would be alright for an IPA, and the end result was actually pretty tasty. I even documented the recipe a few years ago in this blog, and looking back, I didn't do too bad of a job.
Putting together my own recipes actually got me even more interested in homebrewing, because I suddenly realized how much of a potential for creative freedom there was in brewing: so many different techniques, ingredients, and beer styles, you could brew anything you wanted. Also around that time, I got a copy of Graham Wheeler's Brew Your Own British Real Ale, a collection of over 100 clone recipes of more or less well-known British ales. Reading through it and comparing the recipes gave me a feeling for how recipes could be designed. From there on, with very few exceptions, practically every recipe was something I had put together myself (I think the only exceptions were a Black Sheep Best Bitter clone from said book with a weird diacetyl note, and a Heidenpeters Thirsty Lady clone), not all of them were great, but most of them taught me something new about brewing.
Besides the brewing itself, we also started going regularly to a Berlin craft beer meetup organized by Rory, who had an extensive knowledge about the Berlin beer scene and beer itself, and regularly organized visits to various breweries, craft beer bars, as well as beer tastings of different sorts. Anybody who has been involved with beer in Berlin within the last few years knows Rory, that's how tightly he held the Berlin craft beer scene together. At some point, he organized a meetup of people from that craft beer meetup that were brewing at home, and a spin-off homebrewing meetup was started. While there had been occasional homebrewer-organized events in Berlin before, they were very irregular, usually German-speaking only, and more focused on just visiting bars. Rory's homebrew meetup was different: very international, mostly English-speaking but not excluding German speakers, very open-minded, and very beer-focused. Everybody could just bring their own beer, and we would just taste one after the other, discuss them, and give feedback. It was well-structured, and very enjoyable at the same time. From these tasting, both guided tastings of commercial beers, and relatively unguided tastings of homebrewed beers, opened up a horizon of flavours (and off-flavours) that I otherwise probably wouldn't have been able to experience. For some time, we even had themed tastings, where we'd e.g. all brew a Belgian style beer, or a Porter, or the same base recipe but everybody used a different hop variety. These themes made the meetups something that you could look forward to and work towards.
I think only in retrospect I realized how much of a nucleus of the emerging Berlin craft beer scene this homebrew meetup was: Thomas Wiestner who later co-founded Braukunst Wiestner was a regular participant who brought a lot of great and creative beers to the meetups. The two founders of Pirate Brew were there quite a few times, giving us crazy stuff to sample. The founder of The Mash Pit, Christian, helped organize the homebrew meetup, and usually provided us with the space to meet. A few people who I met there did beer sommelier trainings, and are now running beer tastings and homebrewing courses. It was a forum that inspired and encouraged people to do creative things, and to brew more exciting beer.
All these impressions had an impact on me as well: not only did I understand beer and its nuances better (or so I'd think, at least), it made me appreciate the craft of beer brewing more, because the close contact with all the processes (even just on a small scale at home) made me realize the complexity behind brewing as such. Don't get me wrong, I think homebrewing is a hobby that is easy to get into as long as you can make porridge, read a thermometer, follow general instructions, and prepare well enough in advance to have all the necessary equipment and ingredients ready to go. But beyond that simplicity lie so many details, and the phenomenal thing about homebrewing is that you can explore all these details: you can just work on perfecting your single favourite recipe, you can experiment with different hop varieties, you can brew all the beer styles you'd like, you can use the most outlandish ingredients beyond just hops, malt, hops and yeast (as long as it's not beetroot; I'm serious). You can do lager brewing, or explore decoction mashing, or strife towards the perfectly juicy double-dry-hopped NEIPA. Or, what I've been doing, explore historic beers both in theory and practice.
For me, beer is an ongoing journey, and the hobby of homebrewing, for the last few years, has been a reliable companion. I think it improved my understanding of beer as a whole, and for sure it will for the next coming years, if not decades. There's still so much more to explore, so much more to try out, so much more to document and write about. I met and learned to know people that I otherwise would have never ever met in my life, and I looked into subjects of which I would have never ever thought that I'd be even remotely interested in them. And because of my rather positive and pleasant experience that homebrewing has been to me, I can only recommend to everyone who tries to understand beer better or get a different view on it: do get into homebrewing. At least try it out once. It's an interesting hobby, one that is incredibly satisfying and rewarding, where you can learn about all the ins and outs of a drink that at its core is incredibly simple and yet can be totally complex.