Germany is slightly opening up. ICE trains are going again, and in Bavaria, hotels and holiday apartments are again allowed to open and host tourists. Since we've been practically locked in for almost 3 months, my wife and I decided on a short notice to go to Bamberg for a quick trip.
The ICE from Berlin to Bamberg is quick, less than 3 hours with just a few stops. Our holiday flat was located near Wunderburg, a small district of Bamberg a bit off the town center which is best known for its two breweries that are practically opposite of each other, Keesmann and Mahrs Bräu. Most of the days were rather rainy, which was a good opportunity to walk around a bit, enjoy the scenery of this historic city, and then find the good places for beer. And, amazingly, physical distancing both in pubs and beer gardens worked really well all across Bamberg. Everyone was compliant, wore masks where and when asked to, and kept their distance to other parties. One place, zum Sternla, even put up perspex "windows" to divide large tables for different parties.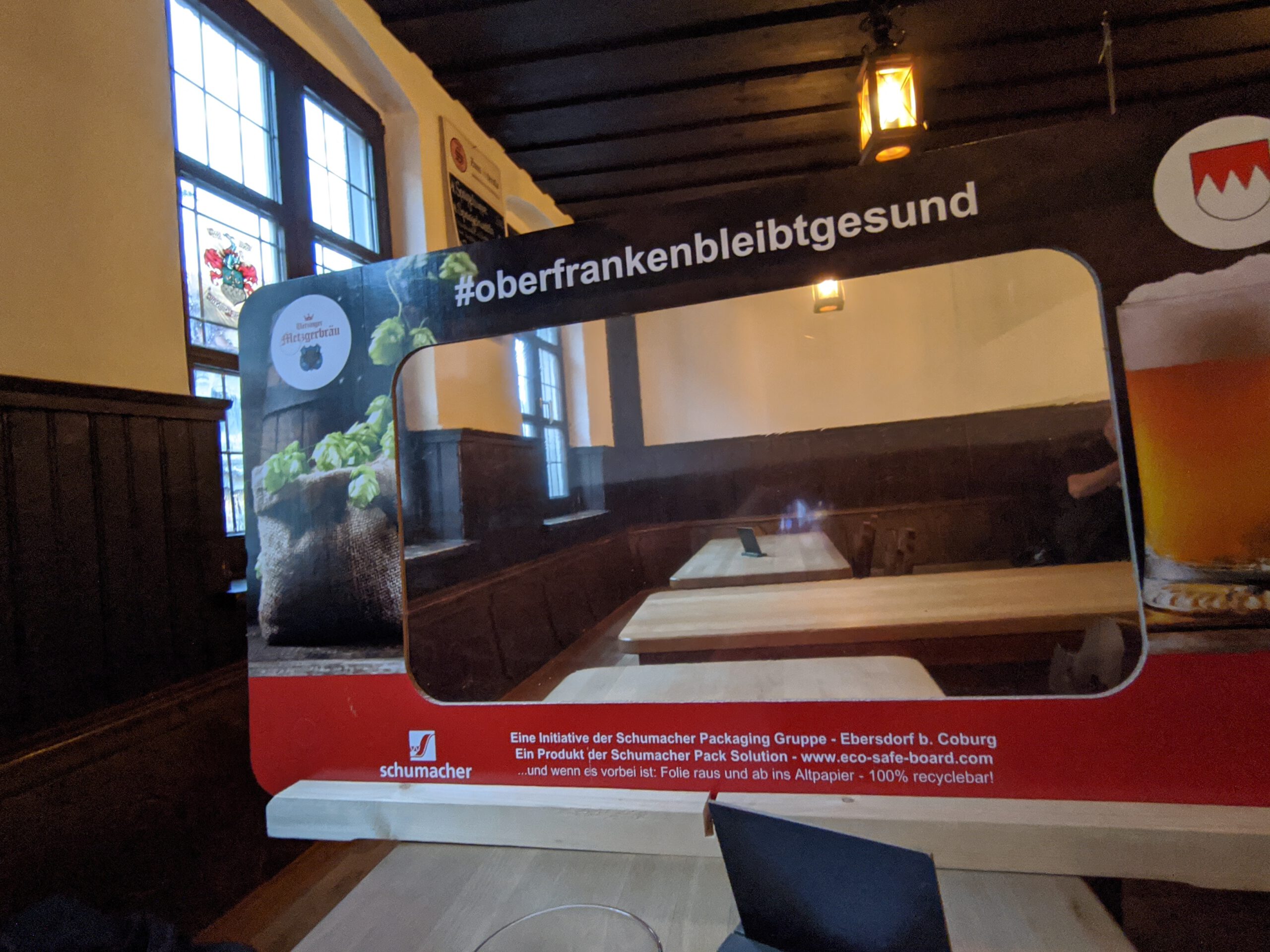 One thing that I had noticed in the weeks before the trip, particularly on Instagram, was that Brauerei Heller, the brewery behind the well-known Schlenkerla smoked beers, had launched a new low-alcohol beer, Heinzlein. I was intrigued about it, because I knew this beer type under various different spellings ("Hainslein", "Heinzele") of the same name from previous research in historic beer literature. This "new" low-alcohol beer clocks in at just 0.9% ABV. While it cannot be legally considered to be alcohol-free beer, it is still practically too low to taste any alcohol or to get even tipsy from it.
In historic beer literature, this beer type is already mentioned in the early 19th century as typical for Bamberg. In the 1818 book "Das Bamberger Bier" by Johann Seifert, it is described as being brewed from the third runnings, boiled with hops, left to cool in the brew kettle overnight, and fermented with bottom-fermenting yeast like the regular beer made from the first and second runnings. The 1836 book "Die Bamberger Bierbrauerei" by Johann Messerschmidt contains an own section about brewing this beer type, and calls it a "one-hundred-year tradition" which, even though it was actually not legal according to the Bavarian brewing regulation from 1811, resisted any attempts to abolish its brewing. So, just from historic sources we know fairly well that this beer was actually brewed, and more importantly, how it was brewed.
So just from that perspective, it makes me incredibly happy to see a recreation, even with a slight modernization, of this historic beer style: unlike the historic original, the modern Heinzlein is available in two different version, a pale and a dark version. The dark version is, well, brown, slightly malty and astringent, while the pale version also has a faint astringency, but a lot more hop aroma and bitterness in the foreground, which makes it quite the refreshing drink.
In addition to that, Schlenkerla also has a version of this historic beer which they spell differently again, Hansla. It's advertised as less than 1.2% ABV, and very obviously is related to Schlenkerla's smoked beers. It is slightly malty, still has some smokey flavour, but also carries the tiniest hint of astringency. I was lucky to sample this beer directly at the historic Schlenkerla pub.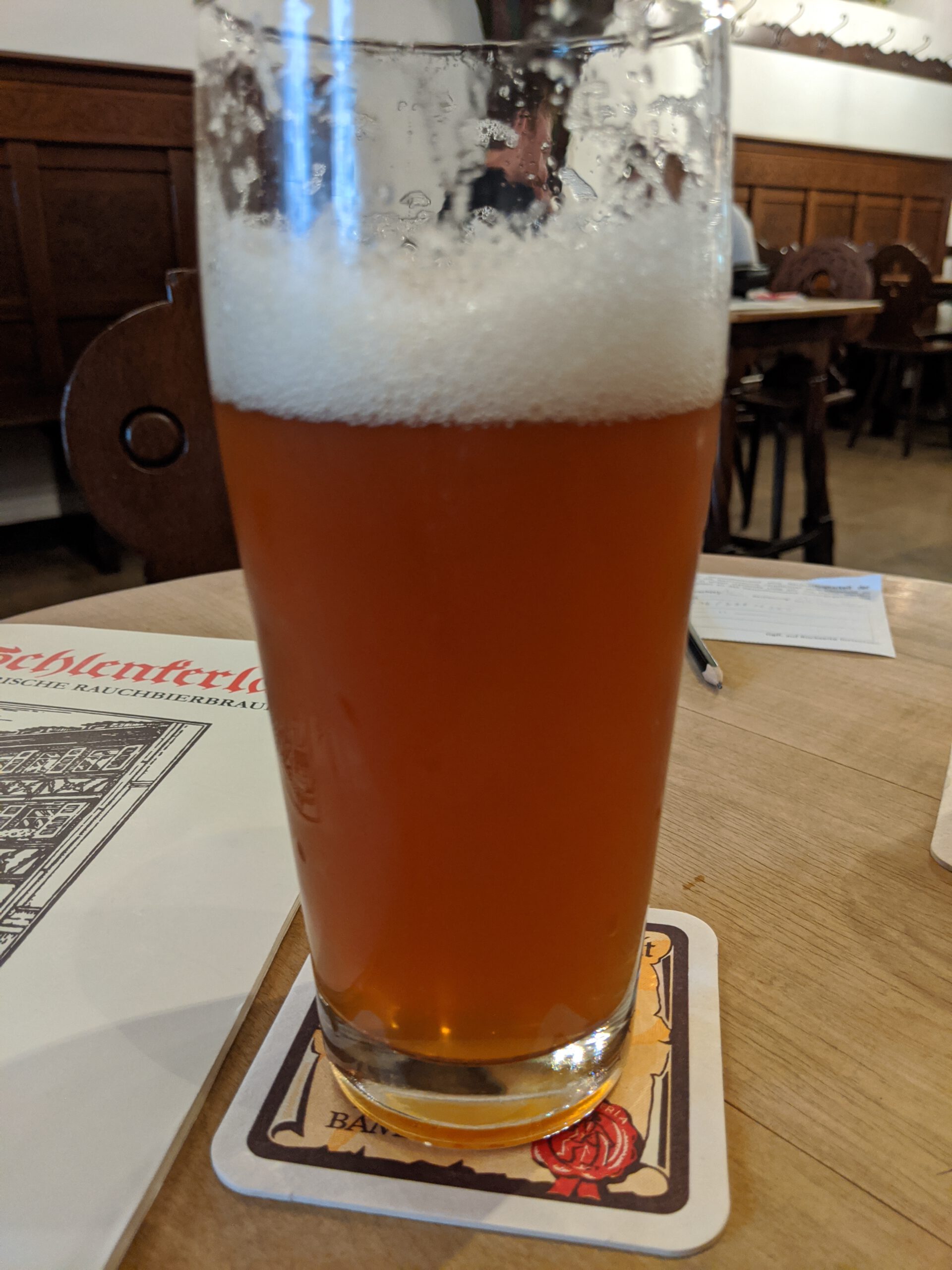 In the context of beer history, the Schlenkerla version of this low-alcohol beer type is probably closer to the historic original than the more modern versions.
Historic sources describe it as light and agreeable, pale in colour. Some brewers apparently sold it directly (and there was plenty of demand from poor people that couldn't afford a Maß of full-strength beer!), while others mixed it with the regular beer.
And that's where I also see the Hansla's great potential: while it's nice and refreshing to drink on its own, I could totally see a Schlenkerla Märzen mixed half-and-half with Hansla, to produce a drink that's still obviously classic Rauchbier, but at the same time only has about 3% ABV. Or, if you prefer it slightly stronger or weaker, in different ratios. Please note that I haven't actually tried this, but as soon as I get my hands on bottles of Schlenkerla Märzen and Hansla or Heinzlein, this is certainly an experiment I would like to conduct.
And last but not least, kudos to brewmaster Matthias Trum, who created these beers with the full awareness of the historicity. In my opinion, it's a drink with character, in some ways a bit rough around the edges, that can meet the current trend of low-alcohol beers without giving up any of its character or originality. Especially the Schlenkerla Hansla is very much a Schlenkerla beer. Just a few years back, I don't think anybody would have expected low-alcohol Schlenkerla that would be recognizable as such. And going even a step further, I don't think anybody would have really expected a low-alcohol dark beer, either.
After writing all about low-ABV beer, I'm actually quite thirsty. I wouldn't mind a Heinzlein, or Hansla, or Heinzele, or Hainslein, or however you want to spell it (the German language has been very flexible in spelling before its standardization, especially when trying to write local dialect words in high German), but it hasn't quite made its way up from Bamberg to Berlin.