I couldn't let go of the little mystery of Keesmann and Mahr that I had come across recently: an 1876 address book of Bamberg and the surrounding area connected the two breweries as both belonging to "Brenner" brewery. The brewery nowadays known as Mahrs Bräu in the Wunderburg area of Bamberg used to bear exactly that name and was commonly known as "Zum Brenner" already in a book about brewing in Bamberg from 1818.
A second little mystery was that I had found the name "Ambros Mahr" in two contexts: once in connection with "Zum Brenner" at Wunderburg, and once as liqueur and vinegar manufacturer on Dominikanergasse, in the building of modern-day Ambräusianum, and I was wondering whether these were the same person or two different ones.
Let's start with the second mystery first: I searched for the name in the city archive of Bamberg, and even though I wasn't able to get full files (nothing digitized yet other than the catalogue and some photos, it seems), I found that there exists a marriage document for "Mahr Ambros, Bierbrauer" from 1864 and another marriage document for "Mahr Ambros, Liqueurfabrikant" from 1869. To me, the impression is that these are two different persons, not only because of two marriages in distinct years but still close together, but also because the profession is mentioned in addition to the name.
When it came to a possible connection between Keesmann and Mahr, this wasn't quite as easy. One thing I noticed was that Keesmann was generally referred to "Keesmann'sche Wirthschaft" (meaning something like "Keesmann's public house") before November 1867, but starting in that month, mentions of "Keesmann'sche Brauerei" (Keesmann's brewery) also start appearing. The term "Wirthschaft" is still being used later on. 1867 matches up exactly with the "official" foundation date of Keesmann brewery. In later years, it becomes very obvious that Keesmann is most definitely a brewery: Georg Keesmann is listed with the profession "brewer" as candidate for the fourth election district of Bamberg in 1869, while in previous elections, his profession was still "Wirth" (publican).

Some evidence that Mahrs and Keesmann were not actually connected can be found in advertising: both Ambros Mahr and Adam Keesmann posted competing invitations to celebrate "Nachkirchweih" (a Kirchweih is the celebration of a church anniversary, often in the form of a fair, so a Nachkirchweih seems to be an after-party to that) in 1877 with similar offerings: both advertise Harmoniemusik (small ensembles of wind instruments), Krapfen, coffee and beer (Lagerbier at Mahr, Doppelbier at Keesmann), with Mahr also offering roast goose, duck and kid goat as food, while Keesmann only says "warm and cold dishes". Harmoniemusik, Krapfen and coffee seemed to have been a standard offering as Murrmann, another brewery on the other side of the city, was also offering these in addition to roast venison.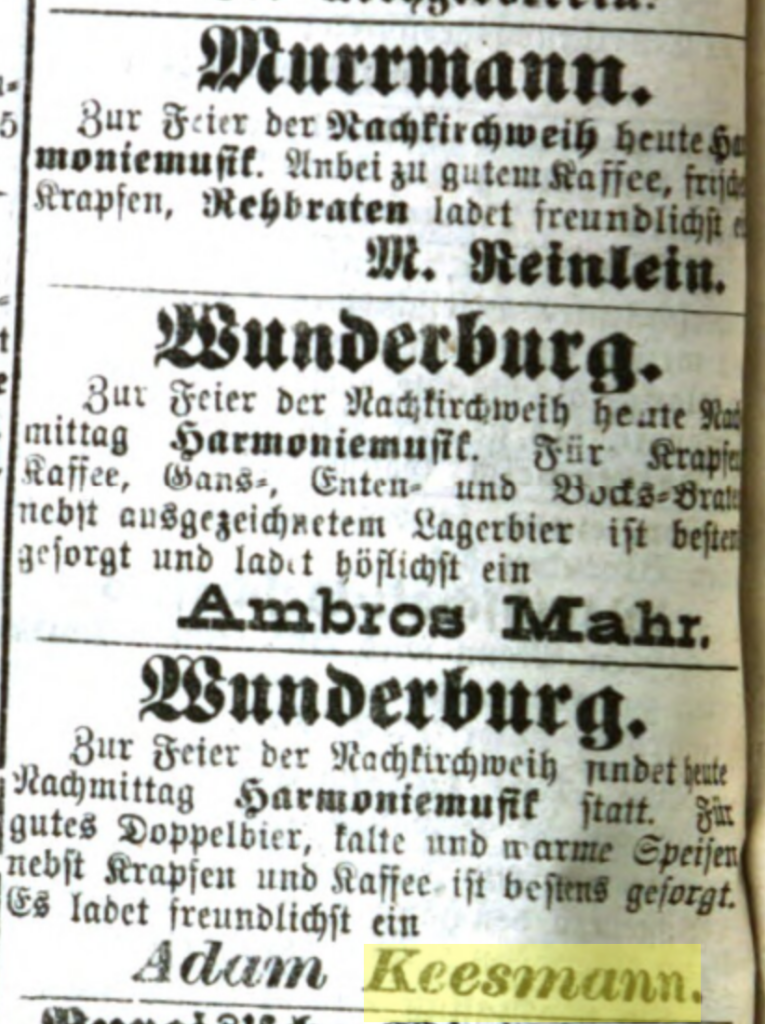 While this is in no way conclusive, I still have not been able to find a second source that would associate Keesmann with Mahr or "zum Brenner" in any way. So the whole thing might as well just be a misunderstanding or a plain mistake in the 1876 source.
During my research, I also found a most likely incomplete list of beer cellars in Bamberg from 1834, in the tourist guide book Bamberg und seine Umgebungen. These were probably just the ones serving customers directly at the Keller and thus worth mentioning. It still delivered some interesting insight.
As most people who spent a beery time in Bamberg have probably noticed, the brewery/lagering cellar of Schlenkerla (Brauerei Heller) is on Oberer Stephansberg. It's very hard to miss if you walk up to Wilde-Rose-Keller or take a left turn to Spezial-Keller.
So, the thing is, the 1834 source does not actually locate the Heller cellar in that building. The closest one to it is the cellar of Jäck, which is either part of or directly adjacent to the modern Heller building. Instead, the Heller cellar used to be located on Oberer Kaulberg, on modern-day Laurenzistraße, not too far away from Greifenklau. Schlenkerla's official chronicle on their website mentions that when Johann Wolfgang Heller purchased the brewery, a "rock cellar on the highest Kaulberg" belonged to it.
Still, it's not clear when the brewery even moved cellars: the brewery's history page only mentions that the Schlenkerla beer cellar at Oberer Stephansberg was closed down in the 1920s for economic reasons, and that a new brewery building was erected in its stead in 1936. But that still leaves a gap of about 90 years where Brauerei Heller must have moved cellars. I will keep on researching.
In any case, I added the 1834 source to my map of historic breweries of Bamberg, as a third layer.