Two  years ago, I did some research to put together a recipe that was meant to closely match what a Vienna lager in the 19th century would have looked and tasted like.
About a year ago, I also discussed the state of Austrian hops and how the hop growing industry had changed over time. In that article, I mentioned that Kleinschwechater Brauerei used to own land in Michelob in Bohemia, close to Saaz, where the brewery grew barley and hops. Due to the geographical closeness, I made the point that most likely Saaz hops or a very closely related landrace would have been grown there.  But so far, I did not have any conclusive proof that Kleinschwechater (later Schwechater) Brauerei indeed brewed with Saaz hops.
That changed a bit when I visited the Schultze-Berndt library located at VLB and curated by the Gesellschaft für Geschichte des Brauwesens (society for the history of brewing technology) a few weeks. When doing some research for my English-language book on homebrewing historic beer styles, I stumbled upon a Festschrift regarding 100 years of brewing Vienna lager, aptly named "Schwechater Lager". While not having that much content, it still had some bits and pieces that gave away some information, including the beautiful water colour illustrations.
One image in particular contained something very interesting: pictures of huge stacks of hop bales.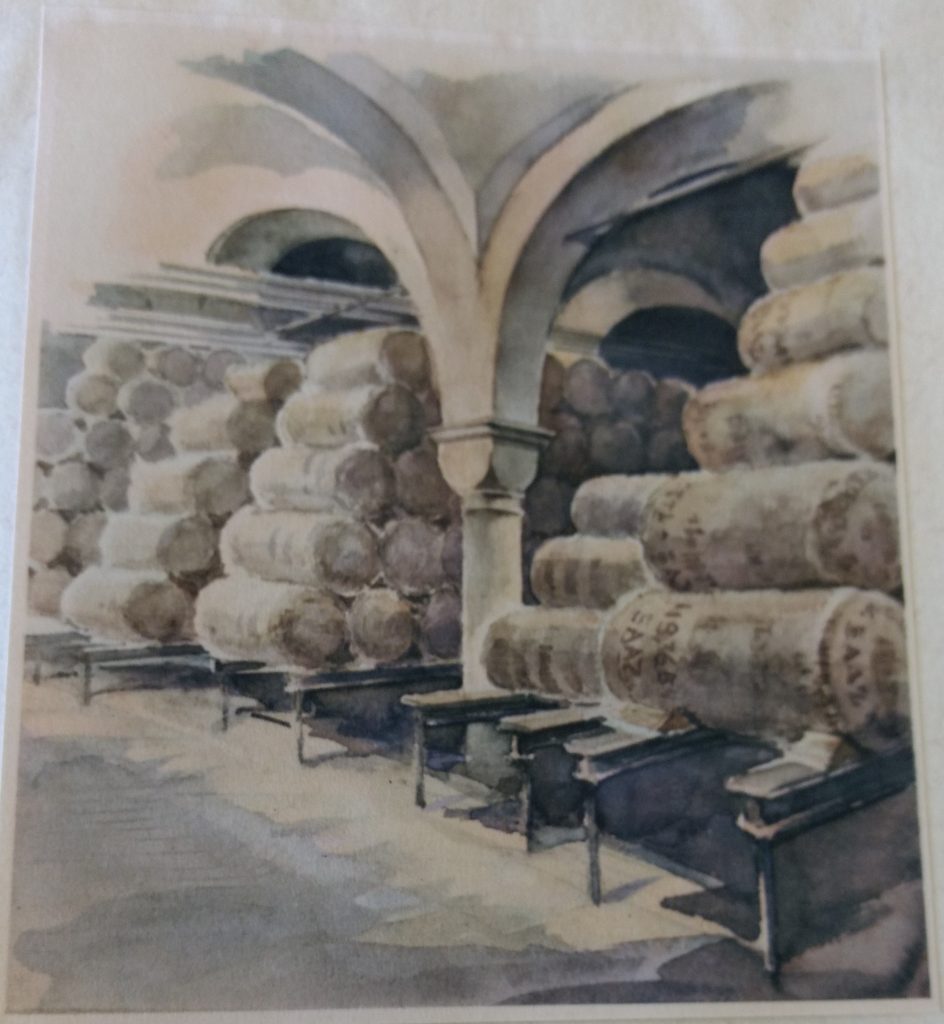 These hop bales clearly show the marking "SAAZ". Assuming that this picture accurately shows the hop storage facilities at Schwechater brewery, we now have a direct connection showing that Schwechater has been using Saaz hops. The text around it mentions that the brewery has been covering their demand using hops from Saaz, and praises Saaz as one of the best hop growing regions in the world. Unfortunately, no time frames are mentioned, so while all this information was certainly true for their brewing in the late 1930's and early 1940's, we cannot yet make the direct connection that Vienna lager in the 19th century must have used Saaz hops.
So let's go a bit further, into the less colourful but more number-laden territory of raw statistics. In 1891 (that's the earliest that I could find), Bohemia had 10317 hectares of hop growing land, producing an annual output of 77540 Zentner (1 Zentner = 50 kg in Germany, therefore 3877 tons). At that time, the total hop growing area of the Austro-Hungarian Monarchy was 14850.5 hectares (divided into the regions of Bohemia, Galicia, Styria, Upper Austria, Moravia and Carinthia), and the total annual output was 117534 Zentner (5876 tons). So for the whole of the monarchy, Bohemia produced almost 66 % of all its hops, on almost 70 % of its acreage allocated to hop growing.
This trend of Bohemia being the dominant hop grower within the monarchy continued in the years after as late as 1918, and Bohemia's dominance even grew larger as other hop growing areas declined further: in 1913, Bohemia's hop output was 73.8 % of the monarchy's total output, with 75.8 % of the total hop acreage, while in 1914 it was a staggering 87.7 % (85.2 % of the total hop acreage). The stark increase in share in 1914 is due to a complete failure in Galicia for that year, most likely due to World War 1 and Austria-Hungary losing the Battle of Galicia.
So, just by looking at the pure numbers, we can deduce that there was a very high likelihood that most breweries bought their hops from Saaz. Again, this is not definite proof, but it points even more towards the direction that hops from Saaz were used by Schwechater brewery, and possibly most other breweries at that time, especially since Saaz hops were the highest priced ones in Germany and Austria at that time.
On a side note, the hop production of Bohemia at that time up as late as the late 1930's was so strong that Germany's annexation of the Sudetenland in 1938 pretty much doubled Nazi Germany's acreage and overall amount of hops produced.