Like last year, I decided for 2022 to brew a light and refreshing beer for the the summer. I was really really happy with my 2021 beer, and so for this year, I again brewed an 8° Czech-style beer, this time even more traditional than last year.
And that was my exact approach: be as simple as possible, but stick to the ingredients that would constitute a Czech beer according to PGI (if I brewed commercially in the Czech Republic and wanted to sell my beer with a Czech Beer PGI label): the sugar from the wort needs to be at least 80% from Czech barley varieties, at least 30% of the alpha acid needs to come from Czech hops varieties, decoction mashing needs to be used, and the beer needs to be bottom-fermented. So I went all in:
The brewing and fermentation process itself was rather uneventful: I hit 8.4°P OG, chilled the wort to 10°C, pitched a yeast pack, fermentation took off in less than 36 hours, and after about 3 weeks, it was finished, with a FG of 2°P. I then ramped down the temperature to 2°C, let it sit at that low temperature for just 2 weeks, and then bottled it, bottle-conditioning it with 1 liter of wort that I kept back.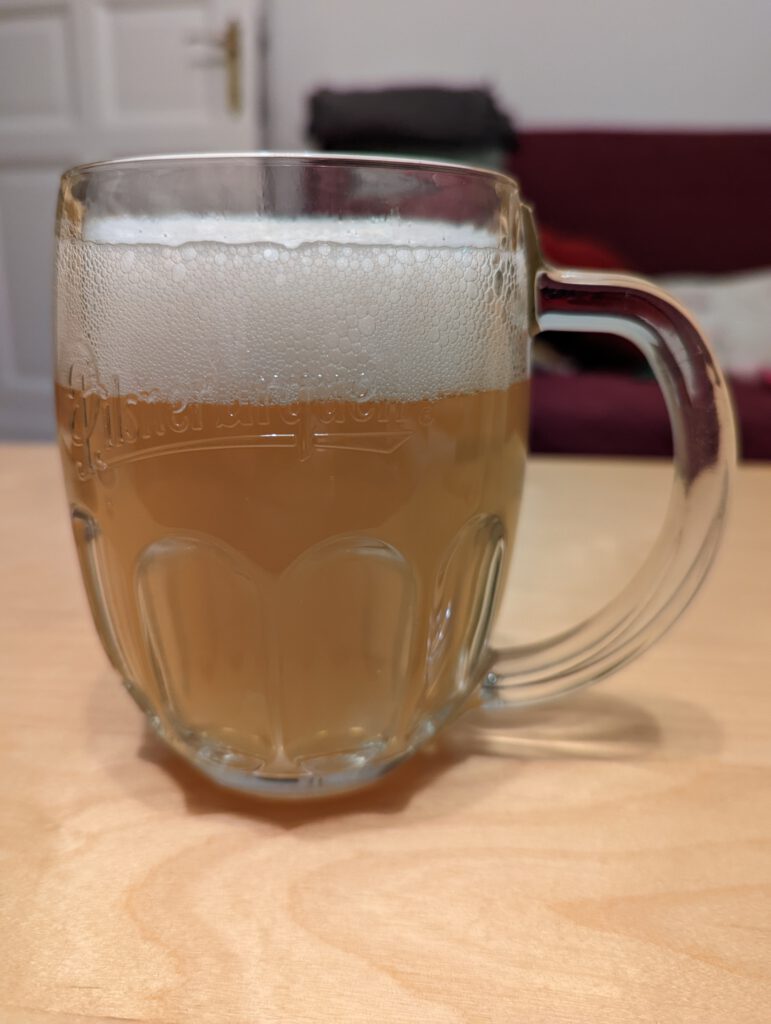 I'm absolutely impatient when it comes to waiting for beer to be finished maturing and bottle-conditioning, so I had to crack one bottle open after just 1 week. I pre-chilled it for a few hours, and then poured it into a Pilsner Urquell glass I had at home. While carbonation wasn't 100% there yet, it was definitely enough to drink it. The foam was fluffy but with rather big and open bubbles (I hopes this improves when carbonation is higher), the beer still looked slightly hazy with a very pale colour). It smelled absolutely amazing, and just after the first sip I could definitely say that this was exactly like a Czech beer (it's not a Czech beer because I brewed it here in Berlin, hence why I call it Czech-style). It has that exact bitterness and the kind of hop flavour and aroma that I would expect from any Czech beer, it has a unique edge to its malt character that I would attribute to the intense decoction mash (hard to describe, but once you've had plenty of Czech beers, you just notice it, from your easy-drinking 10° beers to modern Czech-brewed IPAs e.g. from Matuška), and it's got a very good body for such a low-strength beer.
The Urkel Lager strain, despite (allegedly) having a Pilsner Urquell provenance, does not seem to produce diacetyl at any detectable levels. What it does though is produce lots and lots of sulphur. This was particularly noticeable during fermentation and at the beginning of the very short lagering period, but at packaging, all of that was gone.
In the end, choosing the right ingredients and processes for the kind of beer you want to brew matters, and I've only ever gotten all the details of a Czech-style beer right when I applied all the techniques that I knew, with all the right ingredients.
What follows is a quick recipe. In terms of ingredients, it's incredibly simple and one of those beers that can be formulated as a SMaSH beer – single malt and single hops. In this case:
3.1 kg floor-malted Bohemian Pilsner malt from Weyermann
24 g 2021 harvest Saaz hops (4.2% ABV) @ 60 min
24 g 2021 harvest Saaz hops (4.2% ABV) @ 30 min
24 g 2021 harvest Saaz hops (4.2% ABV) @ 5 min
1 pack Imperial Yeast L28 Urkel Lager yeast
Use enhanced double decoction mashing scheme. Lauter, sparge, chill to 10°C, pitch yeast. Ferment fully, lager at low temperature for 1 week (I went down to 2°C), bottle or keg and carbonate. This should get you about 20 liters of a beer with 8.4°P OG, 2°P FG, 3.4% ABV, about 25 IBU in bitterness, and a very pale colour.