Back in July, I put in some effort into mapping the historic breweries of Bamberg as of 1818. Today, I added a second layer to the same map that now contains all the breweries of Bamberg as of 1876, at least according to an address book of Bamberg from that year (like last time, I used this historic map to identify the specific buildings by building number).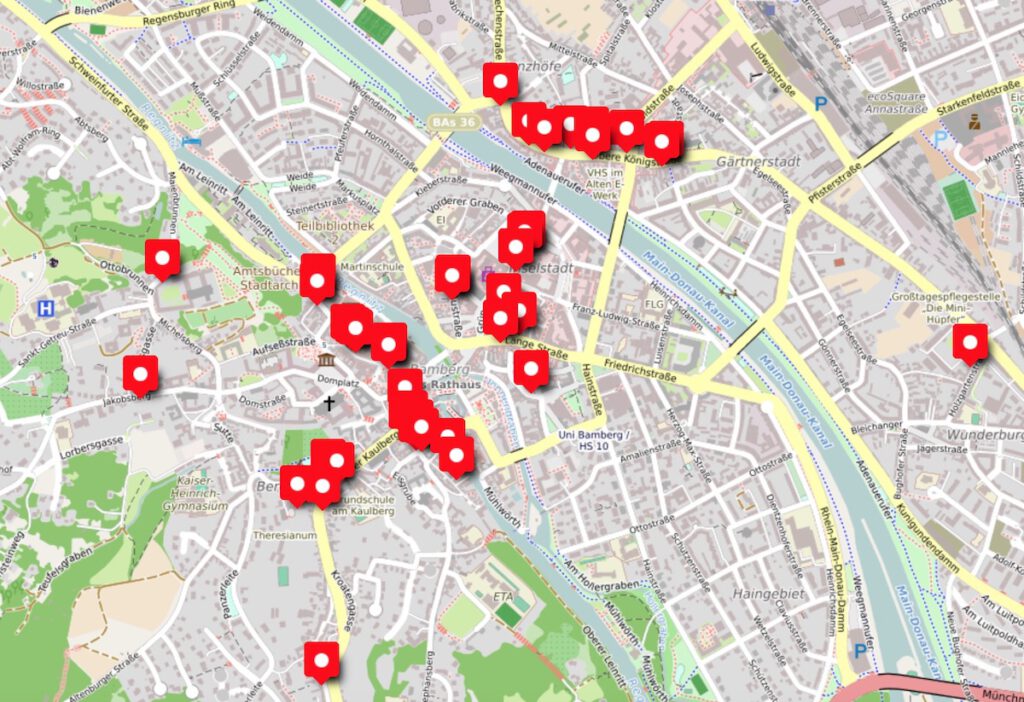 This allows for an easy comparison of the data from 1818 and 1876, and it shows a trend: of the 65 breweries of 1818, only 41 breweries remained. It was a time of industrialisation and rationalisation, so some breweries were merged, others just closed down. Most of the culling seem to have happened on Steinweg (modern Obere/Untere Königstraße): of the 21 breweries in 1818, only 8 still existed in 1876. One brewery appears new on the map, Zum Goldenen Löwen, but it looks like the brewery of the same name that was previously located at Holzmarkt simply moved to a different building on Steinweg.
It wasn't much better on Lange Gasse (modern Lange Straße), another cluster of breweries: of 8 breweries in 1818, only 2 remained.
The 1876 address book also cleared up a confusion I had with the 1818 source: the 1818 book lists "Zum Stern" at building 126, even though the brewpub "Zum Sternla" is located in building 144. In the 1876 book though, building 126 is listed as the brewery "Stöhr", while "Stern" is listed as building 144 (not as a brewery though, only as a pub). To me, that just looks like a transcription error, where the author probably incorrectly wrote down "Stöhr" as "Stern".
Other breweries seem to have moved: Mohrmann/Murmann (the latter is the 1876 spelling) moved a few houses up the street, Riegelhof brewery is listed at a different address two blocks up the street on Unterer Stephansberg (modern Concordiastraße), and Brenner brewery (modern Mahrs Bräu) seemed to have been in an entirely different building down the road, while the building of where Mahrs Bräu is located nowadays was only listed as a pub.
Talking about Mahrs Bräu in Wunderburg, I came across something strange: the Mahr pub (building 702) is listed as "Brenner" with owner Ambros Mahr, while the "Brenner" brewery is listed with owner Karl Mahr (building 736½ on modern Holzgartenstraße, probably no. 29). But there is a second pub with the name "Brenner" listed, building 708, across the road from Ambros Mahr's pub, with owner Adam Keesmann. Interestingly, Keesmann is not listed as a brewery (it was officially founded in 1867), and I still don't understand the supposed connection of Keesmann and Mahr.
Georg Keesmann, the person most often mentioned these days in connection with the foundation of Keesmann brewery (he was a butcher and allegedly finished his brewing education at age 51 to start his own brewery), is listed as a restaurant owner in a different section of the address book, not a brewery owner, for building 708. How are Georg and Adam related? At least based on that data, it looks Georg was running the restaurant, while Adam was running the brewery, both located in the same building. But why it is listed as "Brenner" is entirely unclear.
Interestingly, an Ambros Mahr is also mentioned as a liqueur and vinegar manufacturer, but in a completely different building, 1172, where modern Ambräusianum brewery is located. Is this the same person as the one listed for the "Brenner" pub, or a different one? On another page, the address book lists the brewery owner Ambros Mahr separately from the liqueur manufacturer Ambros Mahr, so that doesn't exactly clear that up.
In any case, it shows that things were more complicated, breweries, pubs and restaurants were a bit more fluid, and not every historic brewery that still exists these days was always located in the same building. And most certainly, more research into the history of Keesmann seems necessary.