While looking for a picture of a Burton Union in old German brewing literature as part of another beer history discussion on Twitter, I came across a source that described Whitbread's fermentation cellar and its setup. So that's what it looks like: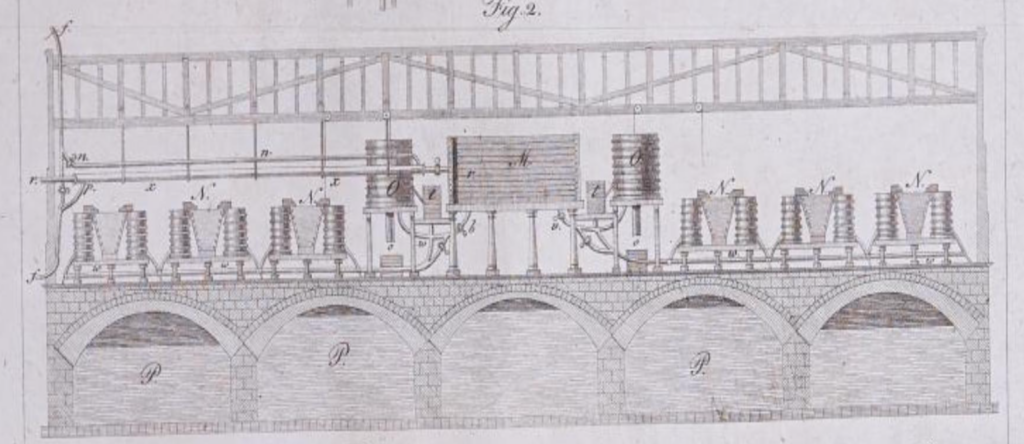 But how did it work? Fortunately, the drawing is accompanied by an explanation.
In the center, you see a large vessel marked M. This is the main fermenting vessel. From the left, a pipe leads into it, marked r on the very left. It is actually enveloped by another pipe x, through which cold water can flow at a regulated speed. Pipe r comes from various cooling tubs, and the chilling pipe was meant to allow temperature control at which the wort is filled into fermenter M.
In M, fermentation is then started, and what the description calls the first fermentation is conducted. I think this is a slight misunderstanding in the process or just a poor description of it, because the beer is then filled into the smaller vessels N where it will expel more yeast that collects in the troughs in the middle. As some beer is lost in this process, all the N vessels are automatically topped up from O with more beer. This is done through a float valve that automatically tops up N if the level is too low. This very much sounds like a cleansing apparatus. And since O is also producing yeast, it has an iron swimmer connected with a leather hose so that any yeast on the top of the beer can fall into this swimmer and down the leather hose, ensuring that also the beer in O is cleansed.
And finally, the arched cellars P underneath, built from stone and made watertight, are used to store and mature finished beer. According to Martyn Cornell, these were vaults used for maturing porter that were opened in 1784.
And, of course, he wrote about this all in great detail quite a few years ago on his own blog.