Berlin is one of those places that have a rich brewing history, not just because of literally hundreds of breweries that used to brew beer all around the city, but also because it's home to one of the few old German beer styles that have survived to this day.
While the style was neglected in the second half of the 20th century, and had a hard time to keep its place in Berlin's beer landscape, the recent surge in interest through the craft beer movement has helped repopularize it. When a few years there were only a few breweries like Brewbaker and Bogk Bier that restarted brewing the style the traditional way, this has changed: with local breweries like BRLO, Vagabund, and Berliner Berg, the landscape of locally brewed Berliner Weisse has expanded dramatically.
The rise in popularity also shows in the beer festival landscape: 6 years ago, Sylvia Kopp initiated the Berliner Weisse Gipfel (Berliner Weisse Summit in English), a beer festival centered about Berliner Weisse, but it's also open for other "wild and sour" beers. On June 1, the fifth edition of this beer festival (now organized by Berliner Weisse Kultur e.V.) took place, and the number of breweries visiting and exhibiting their beers has been even greater than in the years before. And not just from Berlin, but breweries from all the over Germany as well as the Netherlands and even the US took part.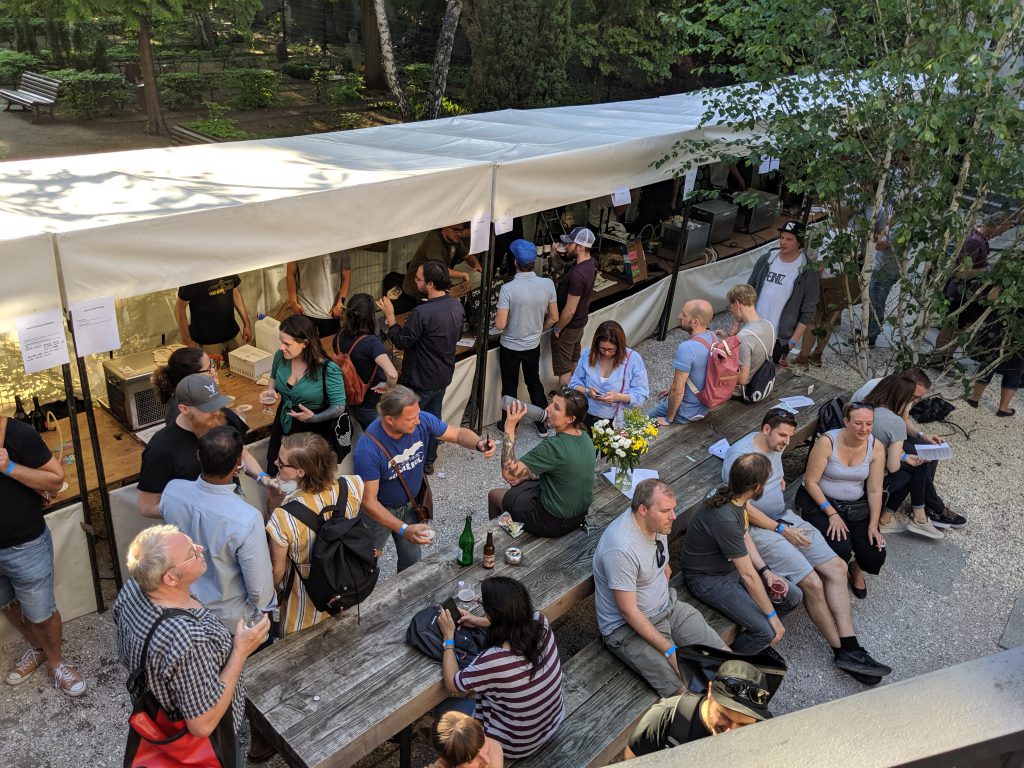 There were too many beers to try, but some of my highlights were:
Berliner Berg Schiller Weisse, very refreshing and easy drinking, exactly how it should be as a summer beer. Cristal Peck, Berliner Berg's brewmaster, is incredibly enthusiastic about the style, and seems to be doing plenty of experimentation to get the beer just perfect.
Schneeeule Marlene. Less sour than some might expect, but with plenty of funk. A great beer to age.
Nevel from the Netherlands brought two golden sour ales, one called Alm seasoned with "forgotten herbs" which they forage themselves, and another one called Minne which was seasoned with Japanese flowering quince. Very complex, very balanced, quite refreshing even at 5+% ABV.
Oedipus, also from the Netherlands, brought a few of their sour beer creations, which so far have always been great, and this year was no exception.
Felix from Orca Brau brought an unboiled Berliner Weisse of 14 months age as well as Bretted Brokantie, a bretted version of his farmhouse ale. Both beers were good on their own, but what stood out was that Felix also offered pouring blends, and it worked: a shot of his Berliner Weisse added to Bretted Brokantie really brightened it up.
August Schell from New Ulm, Minnesota was there with a few versions of their Berliner Weisse. I tried Ulmer Weisse, their version of American Weissbeer, an obscure American version of Berliner Weissbier that is mentioned in the 1901 book American Handy-Book of the Brewing, Malting and Auxilliary Trades. It worked beautifully, and I'm so glad that they revived this historic beer style and also brew traditional Berliner Weisse in a historically pretty authentic way. Jace Marti, August Schell's assistant brewmaster, also did a presentation on how they brew Berliner Weisse, and he recently also recorded a podcast about the same topic.
Joe Stange brought bag-in-box Den Herberg Oude Lambiek, which was a real treat.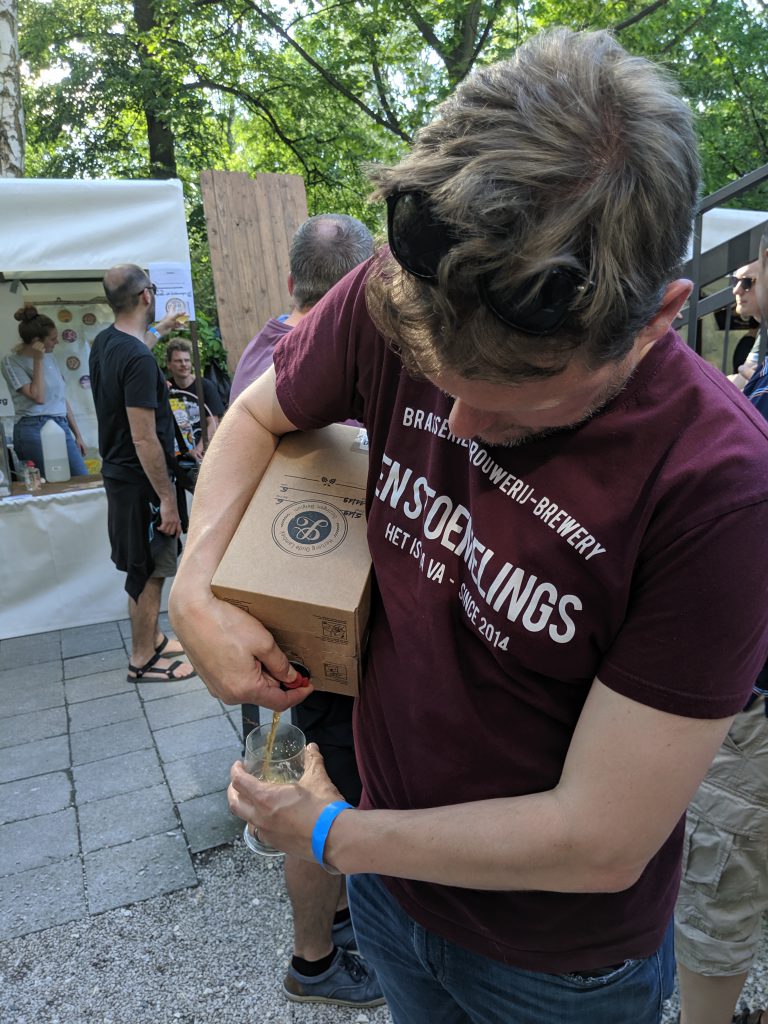 There were so many more breweries, but I couldn't try them all.
Besides just visiting the beer festival, I also had the privilege of serving my own Berliner Weisse. This year, THE MASH PIT together with Berliner Weisse Kultur organized a homebrewing competiton just for Berliner Weisse, SLOSH SOUR. Since I wanted to get more into Weisse brewing, this was a great chance for me to take part. Unfortunately, it was a bit of a short notice period, so apparently one four or so people registered, and my beer was the only one that was actually submitted. The jury sampled the beer, and found it to be good, so I won the competition and could serve the beer to festival visitors. It was well received, and someone even took the time to add the beer on untappd!
All in all, I'm very happy this beer festival exists, and it's become my favourite one in Berlin. This has been by far the most communicative, enthusiastic, exciting, and totally nerdy beer festival here in Berlin, and I'm especially glad about it because it's one important part of the effort to keep this historic beer style alive.