Jess & Ray (Boak & Bailey) recently visited Berlin (and met my wife and I). They had previously approached me by email for some tips on beer and pubs in Berlin which I happily answered, and in their most recent blog post, hoped that I would turn these tips into a full-blown blog post. That's what I've done here.
Please note that this is not by any means a complete guide to beer and pubs in Berlin. Even when just focusing on a very specific niche like craft beer bars or German-style brew pubs, there are so many options to review all over a very large city (it would take about 90 minutes on bus, regional train and tram to get from Brauhaus Spandau in the very west of the city to Schlossplatzbrauerei Köpenick in the south-east of the city, for example, just to give you a rough impression of the size of the city) that makes it hard to ever get a complete, up-to-date picture over everything that's going on. So I'll just stick to the themes Jess & Ray asked about and the answers that my wife Louise and I have given them.
Eckkneipen / Kiezkneipen
Eckkneipen are the classic corner pubs of Berlin. Kiezkneipen are essentially the same thing, local pubs for local people (non-locals most often also welcome), just not on a street corner.
Zum Stammtisch. This is one of our locals in Moabit, run by the same couple for well over 50 years. In the last few months, we found it to be not always open at the expected hours, which is probably down to the old age of the publicans, but our perception is that they're in the process of handing it over or at least running it together with some of their children. One of the last places to still serve Engelhardt Pilsner, an old West Berlin beer brand, nowadays brewed at Berliner-Kindl-Schultheiss.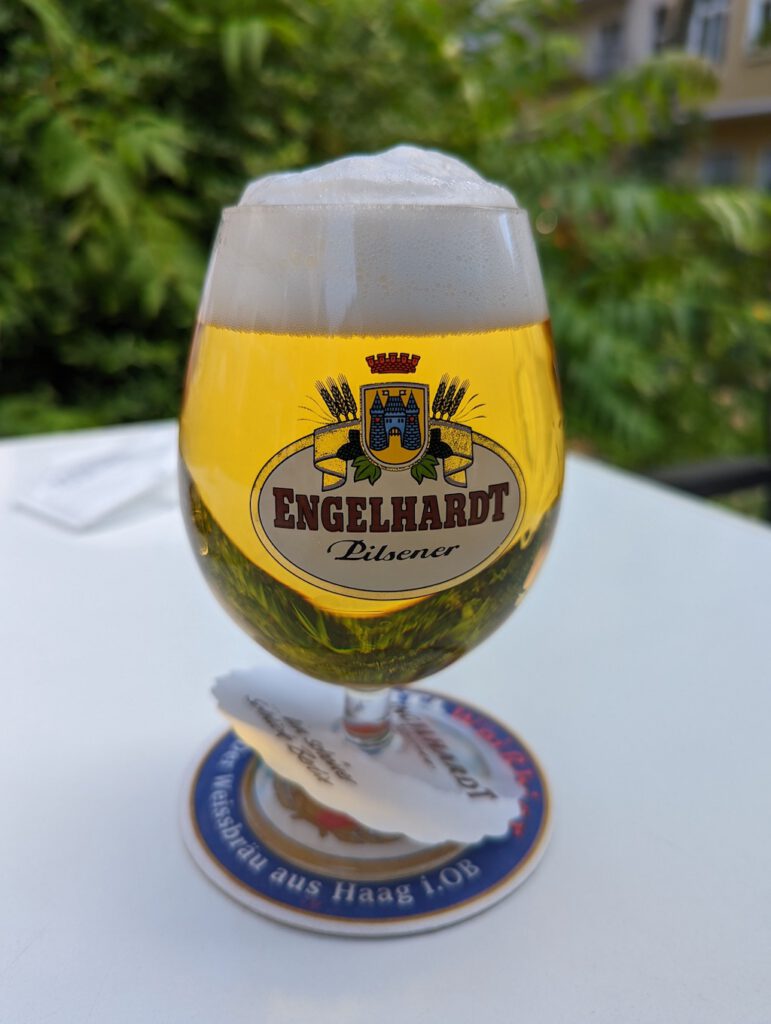 Brüsseler Eck. A local Eckkneipe in Wedding that has recently been taken over, and the new owners have found a balance between catering to their regulars and attracting a younger crowd. This means live music and a mix of classic Berlin beer (Schultheiss) and stuff for the younger crowd (Bavarian Helles, locally brewed Pale Ale from Eschenbräu) while keeping the classic decor. Louise says their beer glasses were not properly washed on our last visits, let's hope that has improved.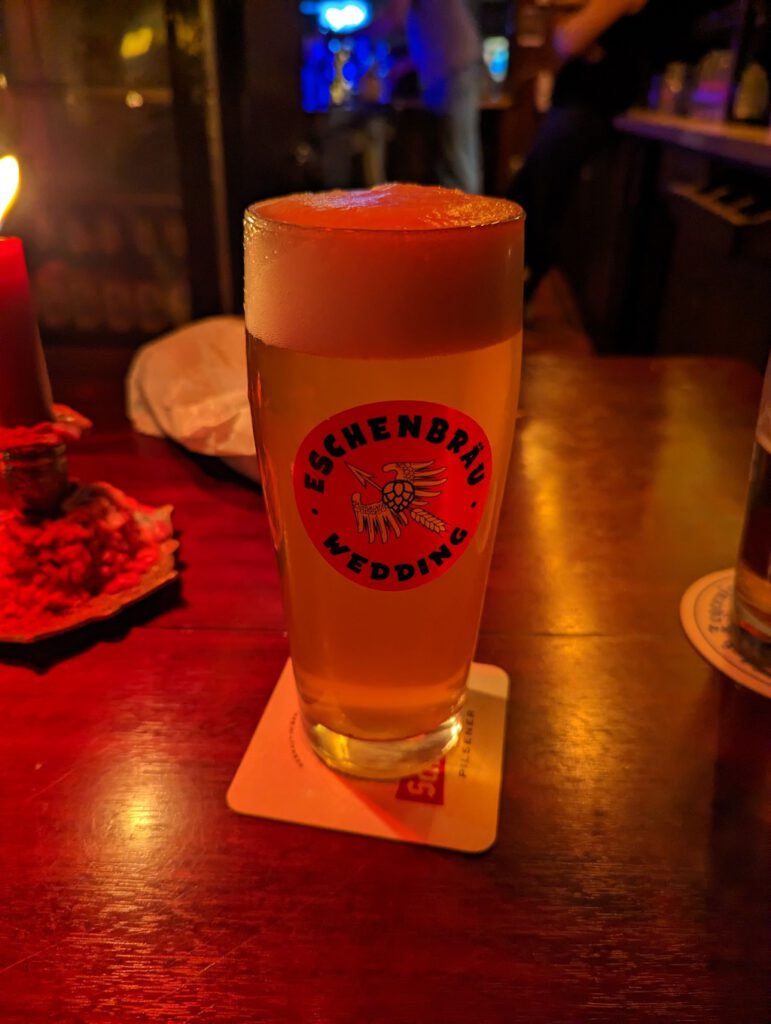 Berliner Bürgerstuben. Louise used to live on the same street, but we never went there. It took moving away to convince me to go to it and we now really like it. Very good beer selection (Schultheiss, Berliner Pilsner, Tegernseer Hell, Meckatzer Hell), it's reasonably priced, and also has a small offering of traditional Berlin food.
Krüger Eck. A classic Eckkneipe in Friedrichshain with a changing tap list. One of their regular beers is the Pilsner from Hops&Barley, but everything else can be in flux. You'll occasionally see Franconian beers on tap, for example I've had Nikl-Bräu Zwickl one time and Schlenkerla Märzen another time. It can get very busy at the times, but they don't do reservations unless you've been a regular for years.
Breweries and Taprooms
Vagabund. They started off with their tiny 2hl brewery on Antwerpener Str., but have since opened a larger brewery with a second taproom. Their beers are generally solid, and they were one of the early ones of the Berlin craft beer scene (full disclosure: I helped crowd-found their first brewery back in 2013).
Eschenbräu. A German-style brew pub with seasonal beers. Some people really like the beer (like me), others hate it (like Louise), and the waiter can sometimes be very weird, but it's certainly an experience. You can bring your own food (they will even provide you with plates and cutlery), but there are also simple snack options like Obazda (pre-packaged), freshly baked pretzels (from frozen) and tarte flambée, all reasonably priced.
Schneeeule Salon. Schneeeule's taproom, probably the best known craft brewery specializing solely on Berliner Weisse. Ulrike Genz, the brewery owner/brewmaster, is behind the bar on most days. A great place to drink their Berliner Weisse and try specialties and collabs that are otherwise hard or impossible to get. Besides sour beers, they will usually have some Franconian lager on tap, as well as some more bottles of otherwise hard-to-get Franconian beers.
Hops & Barley. Long-time brew pub, attracts a football crowd especially during weekends. The beer hasn't been brewed on site for quite a few years, but that only helped with the overall quality and consistency. Besides the core range of Pilsner, Dunkel, Hefeweizen and Cider, also typically has a seasonal specialty beer on tap. In the past, that was sometimes a bit hit-and-miss (I have vivid memories of too much caramel malt that made some of the beers rather cloying; but then again, I've overheard other beer nerds sat at the bar rant about another Berlin craft breweries using even more caramel malt and accusing their head brewer of having a "caramel malt fetish").
Bavarian-Style Beer Halls
Bavarian Beer Halls have a long tradition in Berlin. While some of them may seem like pure tourist traps, they are usually places for reliable food and drink for a reasonable price.
Augustiner am Gendarmenmarkt. May seem like a tourist trap from the outside, but Augustiner Edelstoff is served from wooden cask every day from 6pm, and plenty of Berliners actually go there. The atmosphere is great (it feels like you could actually be in an Augustiner beer hall in Munich), the prices are overall reasonable, it's pretty much always busy, so better book in advance to be sure.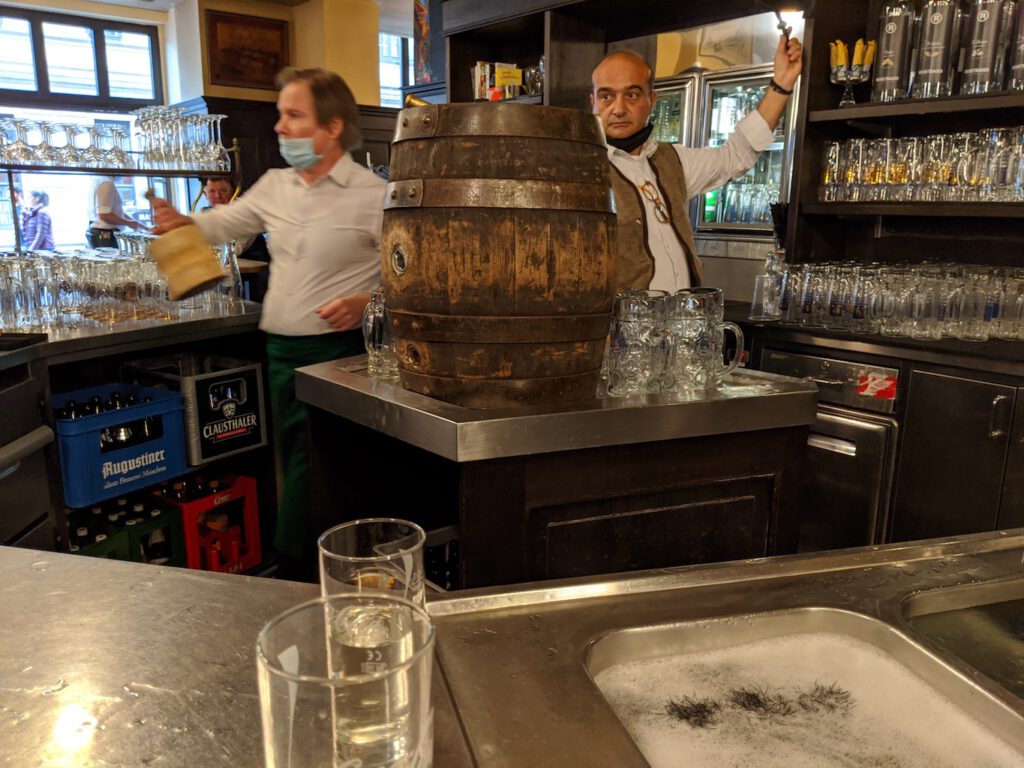 Hofbräu Wirtshaus. Now this is a properly mass tourism beer hall (Rick Stein featured it in one of his City Break episodes, if you want to see how they operate). The Hofbräuhaus beer is still really good, and the one time I was there with work colleagues, the food was solid. Beery friends of mine loved the Sunday brunch to visit with the whole family.
Maximilians. This was not actually on the list I had sent to Jess & Ray, but we went there with them after it was impossible to get any seats at Augustiner on a Saturday night. Serves Hacker Pschorr beers, including Edelhell from wooden casks. Extremely busy when we were there, and not quite the traditional beer hall feel, but overall still made a very good impression.
Other Pubs & Bars
Foersters Feine Biere. One of our absolute favourites with a great selection of German beers (lots of Bavarian/Franconian, occasionally also Altbier) and quality Brotzeit. Not cheap, but worth the money. It's also where we meet for our (nowadays very irregular) Stammtisch. Co-owner Sven is one of the most knowledgeable people about German beer I know and will always recommend a beer to you that you'll like and you've never even heard of before, even if you thought you knew it all already. The bar also features parts of Sven's massive Steinkrug collection. If you're in Berlin on NYE, Foerster's special event that day is a Frühschoppen where Schönramer Festbier is served from 11am until 4pm.
Update Oct 31, 2023: Sven Förster announced just yesterday that Foersters Feine Biere will unfortunately close around end of 2023.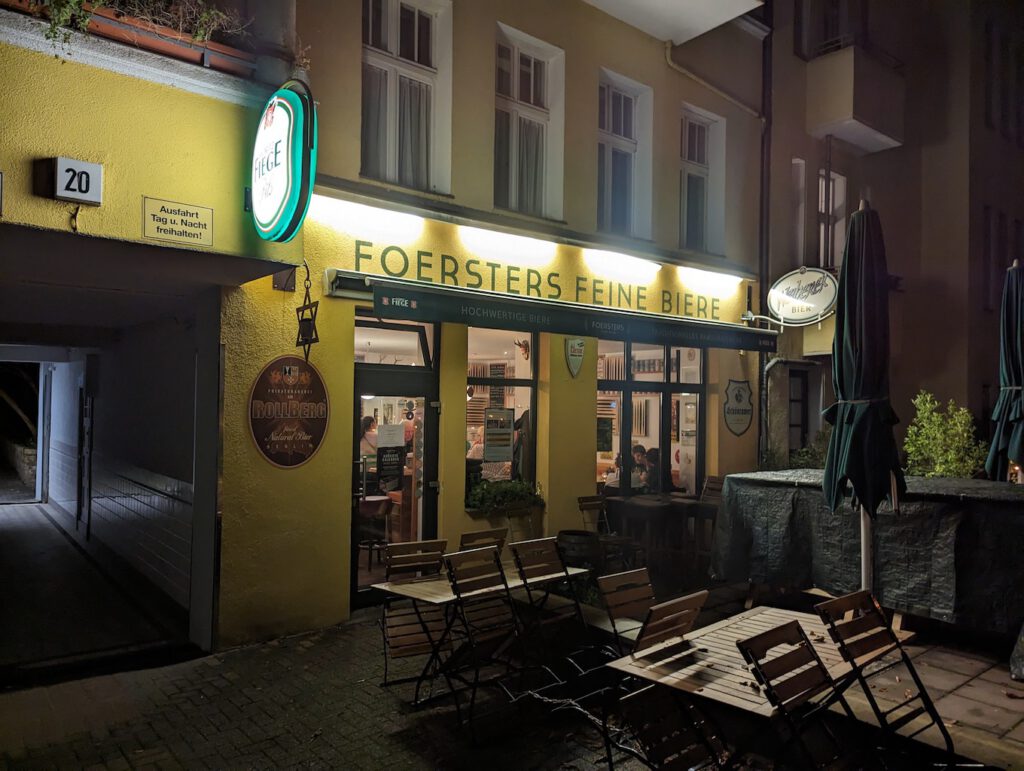 Victoria Stadler. A very Friedrichshain kind of bar, serving Schönramer beer on tap and from bottles because the owner is from there and very proud of the beer. In the winter, has a wood-fired oven in the one of the rooms which makes it extra cozy.
Prager Frühling. A Prague-Spring-themed bar in Pankow. Czech beer on tap (several Svijany beers, Pilsner Urquell, changing tap of local Czech breweries you've usually not heard of before), classic Czech bar snacks (marinated Hermelin cheese and the likes). Incredibly cheap, one of the grumpiest barmen you'll ever meet, Czech radio playing in the background, feels like a pub in Prague, or with all Czech(oslovakian) and Prague-Spring-related paraphernalia all over the place, a Czech pub on steroids.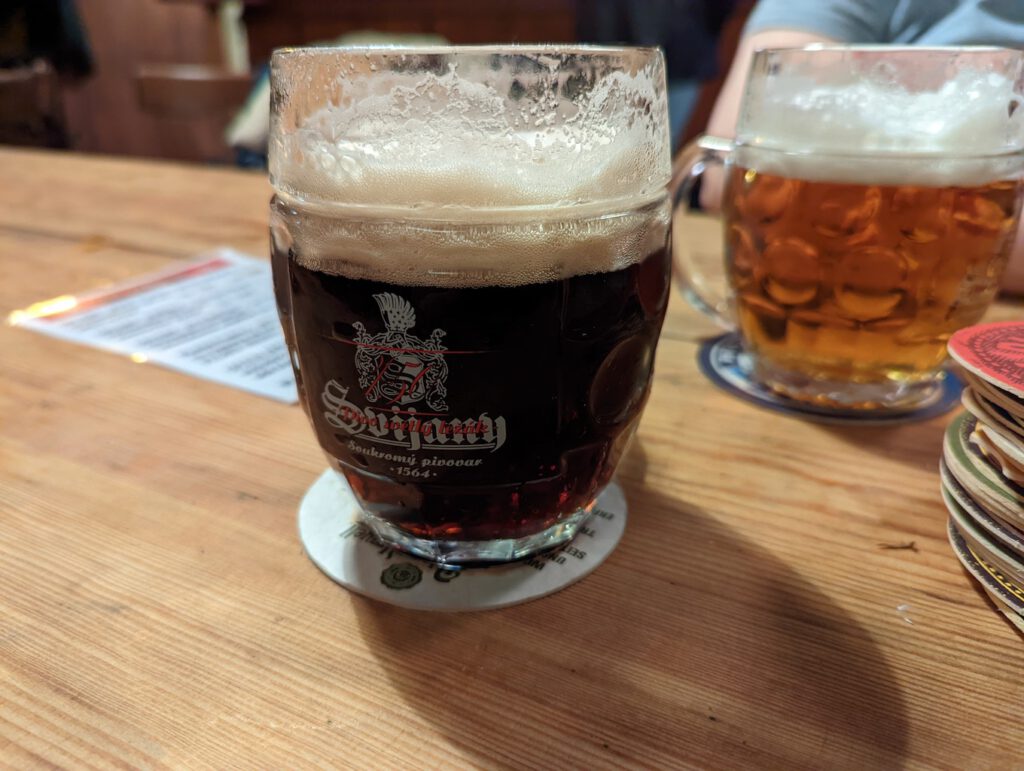 Final Notes
As mentioned earlier, this list is by no means complete. It's based on what Jess & Ray asked us for, reflecting our personal preferences as of October 2023. These might change in the future. Berlin is huge, there are always new places to discover (e.g. Louise recently visited and really enjoyed Dicke Wirtin, but I haven't been yet thus can't give my opinion on it), old places shutting down and new ones opening up.
For another list of recommendations, see also the Berlin Beer & Pub Guide that was compiled and curated by the late Fred Waltman.