After writing about the sources of DMS in beer a few days ago, I stumbled upon another quite interesting paper from 1978 that discusses the influence of boil time on the amount of DMS in beer, titled "Control of the Dimethylsulphide Content of Beer by Regulation of the Copper Boil".
In this paper, the authors put together two different lager malt blends. LMB 1 was designed in such a way that it was kilned at 65 °C, so that it would only contain inactive DMS precursor (see the previous article about active and inactive DMS precursors). LMB 2 on the other hand for kilned at 70 °C and later at 90 °C, so that it would contain substantional amounts of active DMS precursor. With both malt blends, worts of OG 1.037 (9.25 °P) were produced using a single-step infusion mash at 65 °C. The worts were boiled for different times (from 15 minutes up to 2 hours). Each of the worts were split, and fermented with different yeast strains, NCYC 240 and NCYC 1324. The two different yeast strains differ in the amount of DMS they produce: NCYC 240 produces a high amount, while NCYC 1324 produces a low amount.
What was noticeable in the results from the different boil times alone is that there a strong correlation of boil time with decreased amounts of DMS and DMS precursor in the worts. Consistently, LMB 1 had lower amounts of DMS and DMS precursor compared to LMB 2.
When the authors looked at DMS levels after fermentation, the results were quite clear, as well: a longer boil not only brings down the amount of DMS and DMS precursor in the wort, it also consistently reduces the amount of DMS in the resulting beer.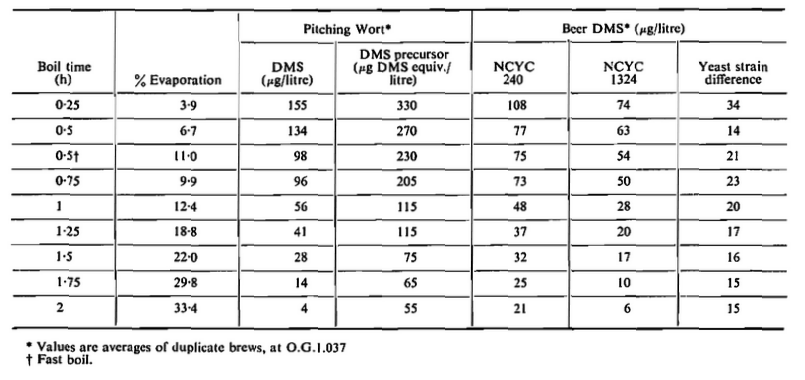 The paper concludes that the DMS content in beer can be controlled almost impossible from other influencing factors through the right boil length and temperature. There is one exception though: if the DMS comes from another source than DMS precursor, a longer boil doesn't reduce besides the normal evaporation.
Just like I hypothesized in my previous article, I will mention this again: I think that the literature is quite clear in that the wort boil has a large influence on DMS levels in beer, just like the specific metabolism of the yeast strain has a large influence, and that in the Brülosophy exbeeriment, the experimenters were just "lucky" in getting the right malt with only low levels of DMS and active DMS precursors, and a yeast strain with only low DMS production.