Last year, my wife and I decided to go for a long weekend to Bristol, with the primary purpose of checking out the local beer scene. We had heard good things about it, not least due to Boak&Bailey blogging and tweeting about their adventures around Bristol pubs.
Our plan was to fly in from Berlin to Bristol on the Thursday, January 31, and return on Monday, February 4. On the day of flying to Bristol, we were slightly worried because of the weather, but in the end, the flight left Berlin-Schönefeld airport on time. On the way to Bristol though the captain announced that Bristol airport had been closed due to the snow (#snowmageddon, i.e. roughly 10cm of snow) – "but don't worry, we anticipated that, and loaded up more fuel and are currently in waiting position over south Wales". Great.
We eventually got diverted to Cardiff airport, which apparently still knew how to use a snow plough, but had to stay on the plane until it was decided that we were to get off the plane and be put into busses to bring us to Bristol airport.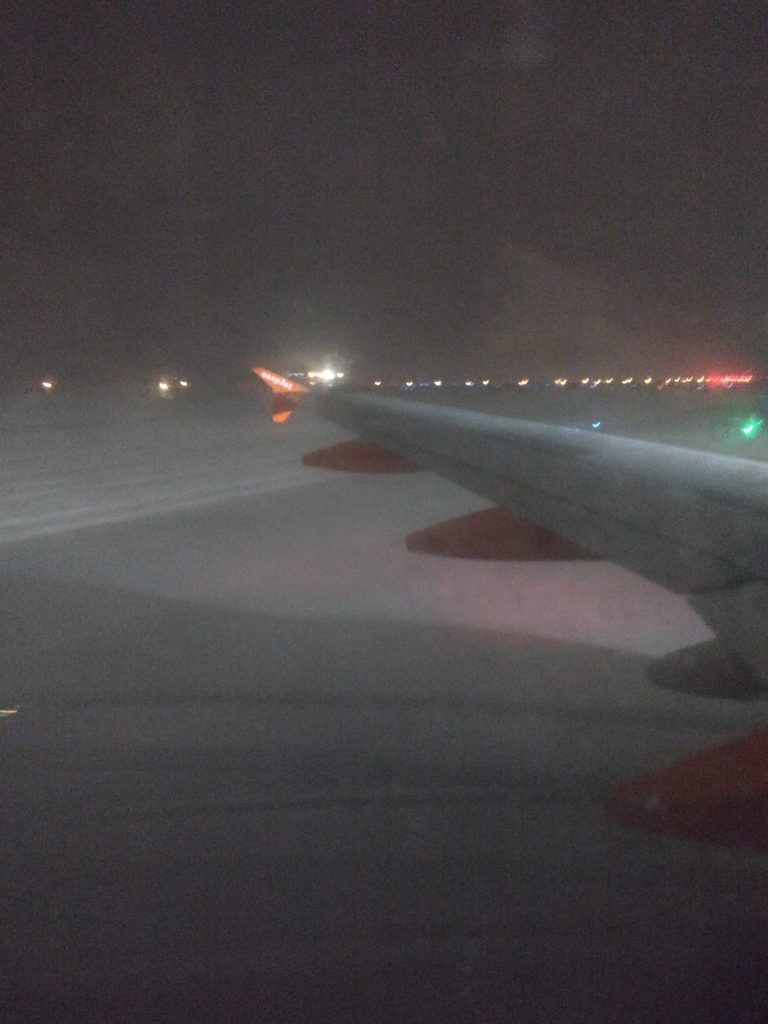 At Bristol airport, we managed to get another bus that drove us almost halfway back, into Bristol. We eventually reached our hotel at around 3am local time (only about 4 hours later than planned). After a short night, we decided to get some light breakfast at Hart's Bakery near the train station. It's one of those fancy hipster bakeries. It may seem hyped, but the hype is totally warranted. Fantastic baked goods, great coffee, but at the same time, the place was pretty packed, and we were lucky to get any seats.
The way back to the hotel brought us to the King's Head. It was one of the pubs that I had earmarked as a must visit, as it serves Harvey's Sussex Best. And of course that's what we ordered. While not cheap, it tasted great, so we had a few more. I also tried whatever guest ale they had on, but forgot what it was. The interior of this pub is apparently historic, and it did have a nice enough atmosphere, save for the group of shouty lads blocking the space in front of the bar. Due to the rather long trip and the short night, we eventually needed some rest for our next stop in the evening: the Bridge Inn.
Prior to the trip, I had contacted Jessica & Ray aka Boak&Bailey whether they wanted to meet up for a wee drink, and they agreed. We met them at the Bridge Inn, a pub slightly too small but still feeling nice enough. The beer selection was good (I mostly remember the Dark Star Hophead), and we spent a good few hours there, chatting about all kinds of beer-related stuff. Since Boak&Bailey and I share an interest about Vienna lager, I had brought them a printed copy of my book as well as two samples of my home-brewed historic Vienna lager, the recipe of which is also straight out of my book. We eventually parted, mentioning that we'd be visiting the Drapers Arms, their local, the next day, together with my sister-in-law.
The chase for dinner on the Friday was less than glorious, and ended up being from a well-known golden-arched fast food chain.
The next day, we took an Uber to the Drapers Arms, as we were simply too lazy to use public transport. The Drapers Arms is a micropub, probably the latest trend in the British pub landscape: small freehouses with (usually) well-kept beer, run by people that care deeply about the atmosphere and the beer they serve. The Drapers was no exception: when we arrived, we were greeted by Jessica & Ray and a very long list of beers on a chalk board as well as a large stillage of casks.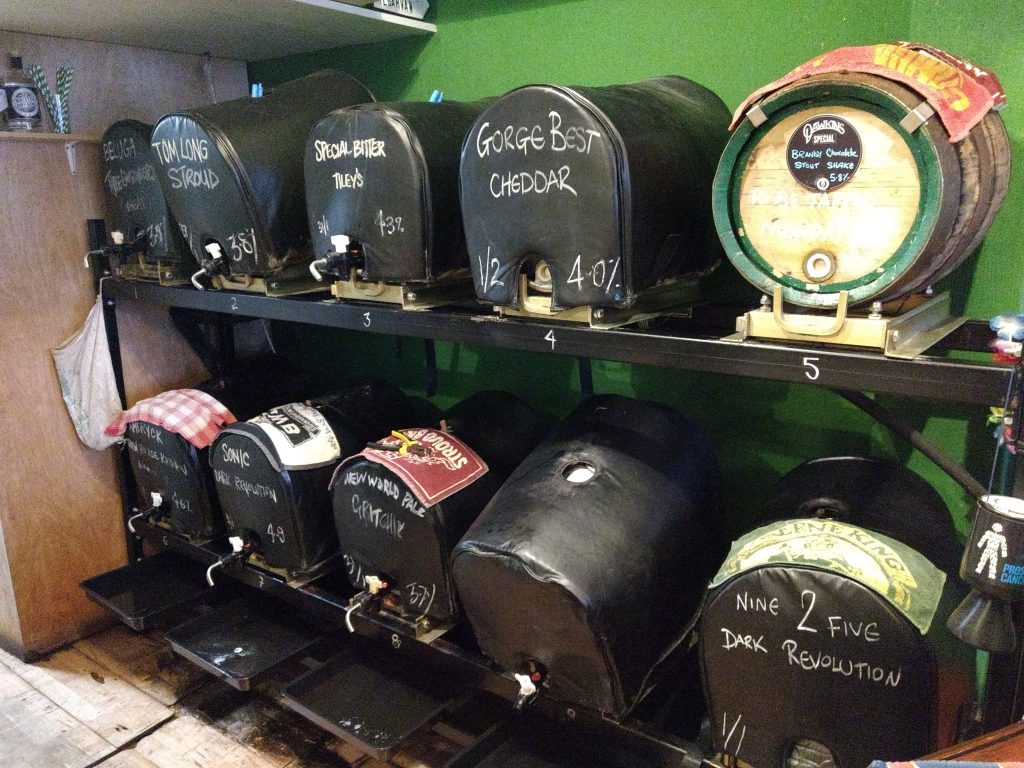 As is common in micropubs, the beer was poured straight from the cask. To be honest, I can barely remember which beers were available. I think I basically had one of each, over a very long afternoon of chatting about Vienna lager and other beer stuff and just having great beer. Jessica & Ray mention the Drapers Arms regularly on social media, and it is indeed a fantastic place for people that just like good beer and a relaxed atmosphere. The two beers that I specifically remember were Butcombe Original, which Ray described as a "very classic 1970's bitter", and Tiley's Special Bitter, which I think fell into a very similar category (even though the brewery's history is much more recent). Both of these beers were sublime, and I'd very much like to have them again. Ray also surprised me with a hazy pale ale, full of tropical hop brightness, but none of that hop bite that I usually dislike about hazy, highly hopped beers. I really should take more notes what beers I've been drinking.
We eventually parted, and my wife, my sister-in-law and I went to the Annexe Inn, which was just a short 5 minute walk away from the Drapers Arms. Unfortunately, it was absolutely packed due to the Rugby, with a very loud, vape-scented and almost aggressive seeming atmosphere. Let's just say there must have been a good reason why they served the beer for some people in plastic cups. We didn't particularly enjoy that, but we still managed to have at least a pint of Landlord. When I queued for a second beer, as I wanted to try the St. Austell Proper Job, I was unfortunately told that they had run out of it. So the guy next to me suggested I should try the Landlord. "I know, I've just had it, but I want to try something different". I eventually went for the London Pride, which was in equally great condition, and despite the surrounding and the plastic cup, a great joy to drink.
With our poor planning skills, we got a quick snack in the form of a bag of chips from a local fish&chips shop (I thought they were fantastic, crunchy and salted just right on the outside, fluffy in the middle with a great flavour, but my spud connoisseur wife thought they were just alright), and then reserved a table at an Italian not far from our hotel. So pizza and pasta and euro lager it was, and an early-ish night.
For the Sunday, we had planned to go to a market, which turned out to be super lame, so we went on to another pub we had earmarked: the Myrtle Tree. Looking it up online might be a bit confuse, as a lot of people themselves seem to confuse with another pub next to it, the Bag of Nails, the Bristol pub version of a cat café. The Myrtle Tree is not known for its cats, though, but two different things: horse racing and gravity-poured Bass. We went there specifically for the latter, as Bass has become rather a rarity and we've never had it before other than from keg. The Myrtle Tree was certainly rather different and unique: quite manky looking, not a lot of space, and most people there for the horse racing shown on the TV. People were very friendly, though, and we felt quite comfortable. And the beer… it was sublime. Like Ray had described Butcombe as a very classic-tasting bitter, the same associations came to my mind when I had the Bass. The maltiness, the hop bitterness, the fruity esters from the yeast, all played together extremely well and just left a fantastic impression.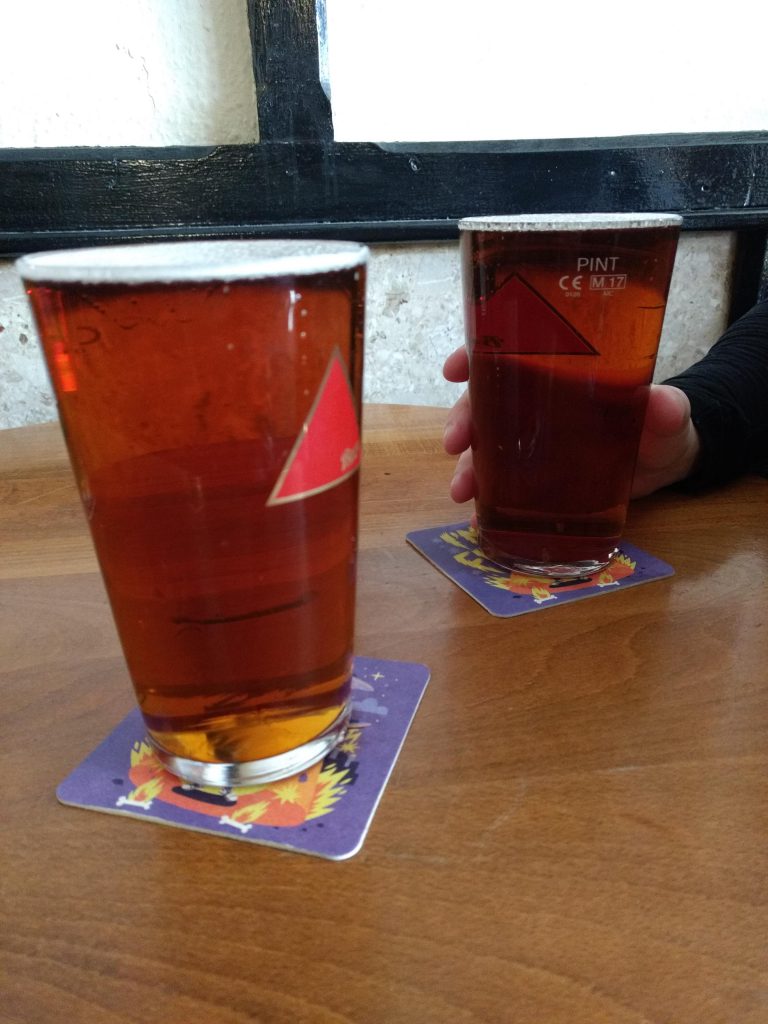 At the Myrtle Tree, we also first learned what seems to be thing in Bristol pubs on Sundays: free snacks for people to help themselves. We were asked whether we wanted to have mini scotch eggs, pork pies, or chicken drumsticks. If you don't expect it, it can be frankly bizarre.
We eventually left this pub, not without a friendly send-off from the locals, and went for a second time to the King's Head, which my sister-in-law hadn't seen yet. As before, the Harvey's was nice. After a quick nap at the hotel, we also made a second stop at the Bridge Inn, only to discover that they had a massive free cheese board. I like my cheese, but we had dinner plans (steak at Chomp), so I couldn't indulge on it. As on the Friday, the Dark Star Hophead was great.
After dinner, we went for a quick last pint, which was the only real dud on our trip: the Old Fish Market, a Fuller's pub which not only played live Jazz way too loud, but also served the lamest pint of Fuller's ESB (it tasted like somebody had sucked all life out of it; not just stale, but outright dull) and, when ordering a glass of Sauvignon Blanc, poured the most expensive open wine from the menu, even though a much cheaper option of the same grape variety would've been available.
The Monday, our last day, was uneventful: we had breakfast, did some shopping of all the British things that we can't easily get here in Germany, and eventually took the bus to the airport. When it comes to beer, Bristol airport was another disappointment, but then you can't usually expect anything from an airport. They had three cask beers on, Doom Bar, Greene King IPA, and Butcombe, but refused to serve the Butcombe "because it pours funny". Asking for clarifications, it was apparently hazy and weird-looking. Either dregs, or poor cellarmanship, I would guess. They had even run out of bottled Butcombe, so my wife got me a pint of cider (which I normally never have). The guy sitting next us, very obviously hung over and waiting for his flight to Switzerland, had ordered a pint of Doom Bar, and it also must have been so bad that he asked us whether we wanted to have a dodgy half-pint. We refused. He didn't finish the pint and just left it.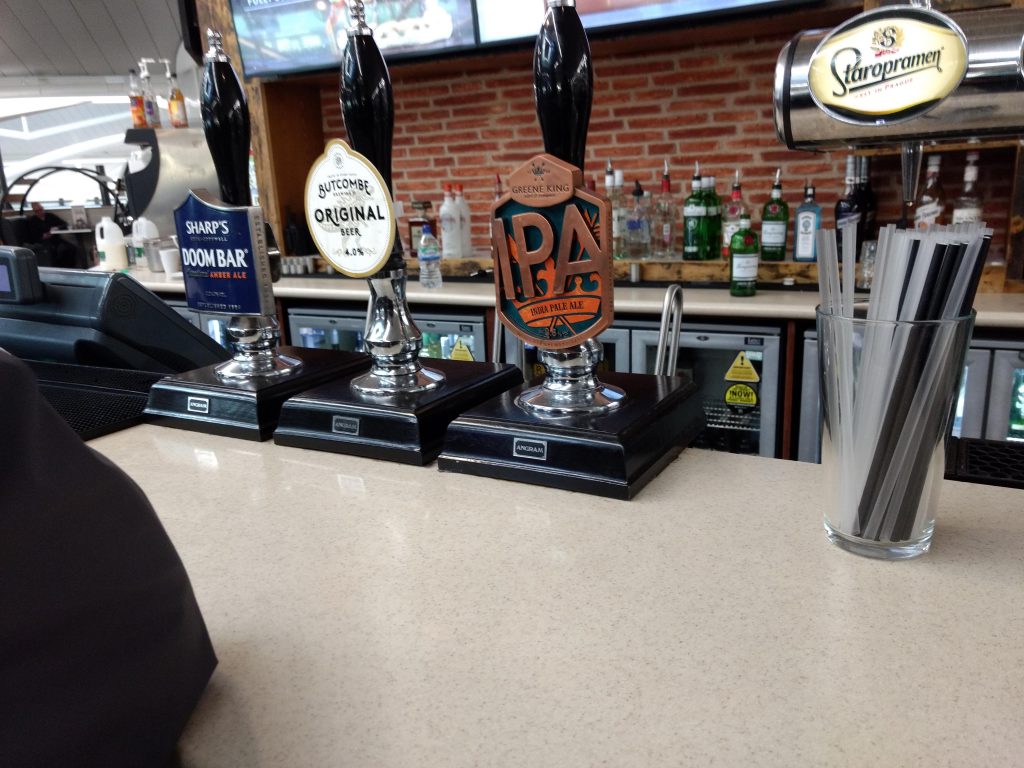 The flight back was perfectly normal, and after immigration we got the direct train from Schönefeld airport to Berlin main train station.
All in all, my impression of Bristol and its beer was great. Okay, we pretty much only went there for the pubs, so I don't think I can even claim I have properly seen Bristol, but I think it was very much worth the trip for all the pubs and all the nice beer, and I would totally go back, once we know how things will be post-Brexit.