Just yesterday I was on a bit of a beer tour in Berlin together with my wife, Jess & Ray and Ben Palmer. After having been rejected at the door of the beer hall of a well-known Munich brewery, and then having had dinner in the beer hall of another well-known Munich brewery, I mentioned in passing that beer halls in Berlin serving Munich beer wasn't even a new concept, but had already been popular during the second half of the 19th century.
An 1891 tourist guide to Berlin lists a number of "beer palaces", many of which were owned by or at least serving beer from Bavarian breweries, among them:
Franziskaner-Leistbräu, on Leipziger Straße 128
Hackerbräu, on Belle-Alliance-Platz 15 (nowadays Mehringplatz on the south end of Friedrichstraße)
Löwenbräu on Charlottenstraße 50, on the corner of Französische Straße
Münchener Bürgerbräu on Friedrichstraße 59
Münchener Hofbräu on Französische Straße 21
Münchener Kindl on Potsdamer Straße 123a
Pschorrbräu on Friedrichstraße 164/165
Spatenbräu on Friedrichstraße 172, as well Spittelmarkt 14
Frankenbräu on Königstraße 33 (nowadays Reinhardtstraße); I suspect this to be Erste Bamberger Exportbrauerei Frankenbräu AG, later known as Bamberger Hofbräu AG.
Similarly, the 1898 Baedeker guide to Berlin lists several more:
Weihenstephaner on Friedrichstraße 176
Brauerei Tucher on Friedrichstraße 180
Kulmbacher ("Mönchshof") on Charlottenstraße 65a
Augustiner on Potsdamer Straße 123
Some contemporary publications commented on this as a "Bier-Kulturkampf" (beer culture war) between the classic Berlin beer culture of top-fermented white and brown beer and the newfangled Bavarian beers that made an impact on Berlin architecture. The most prominent beer palace in that regard was probably Spatenbräu on Friedrichstraße 172.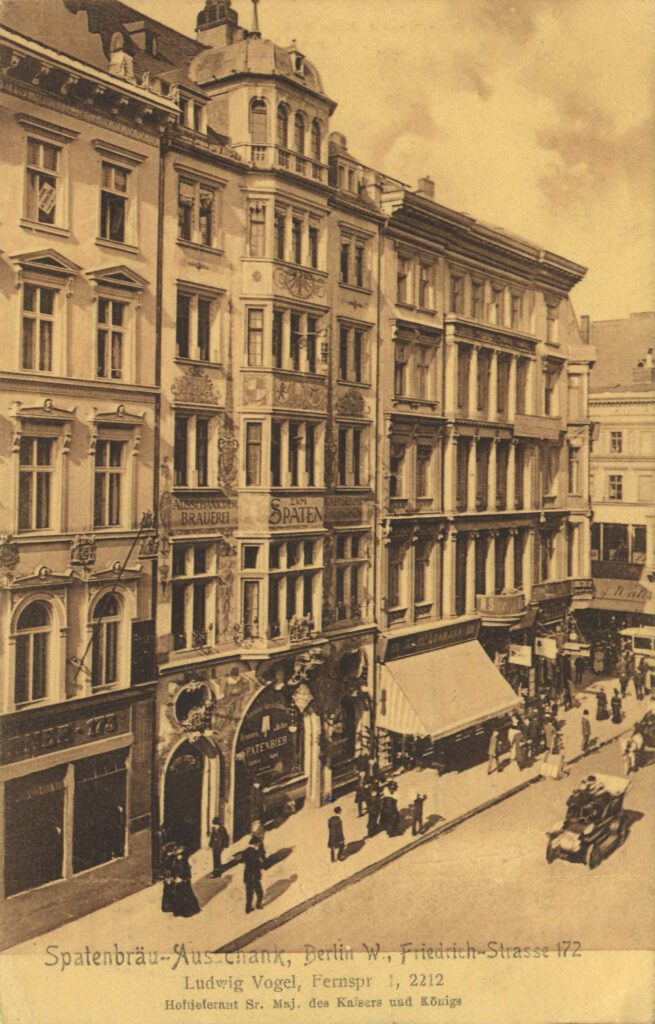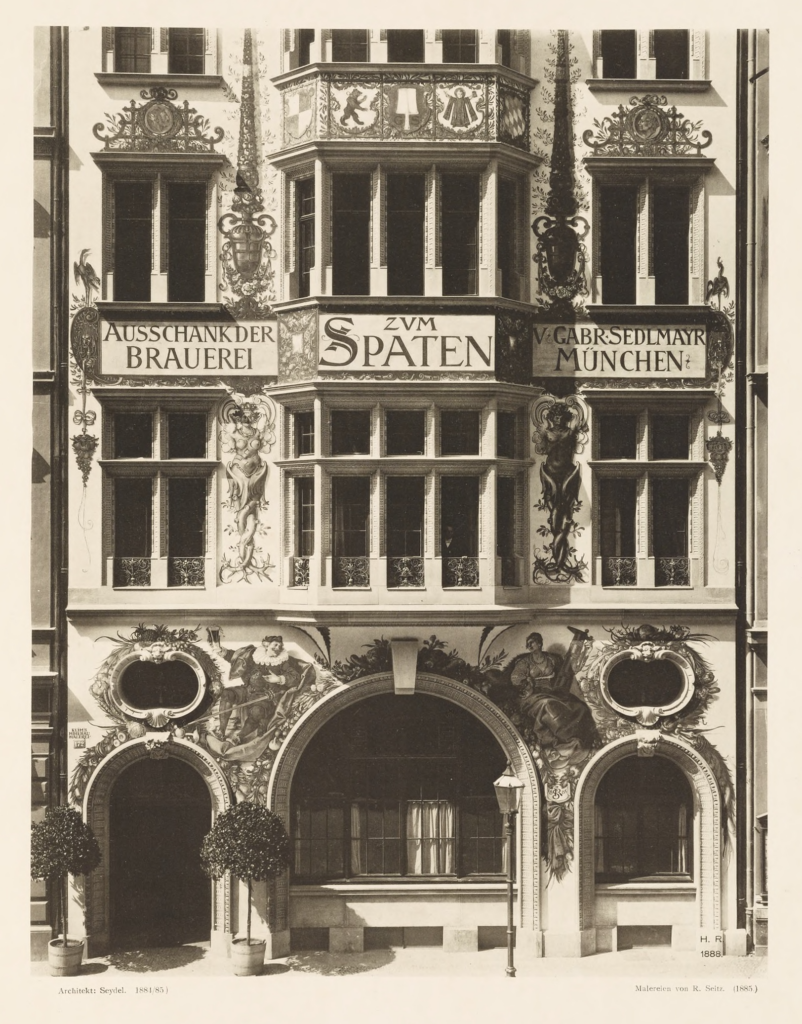 The sheer number of beer halls and restaurants made the area around Unter den Linden/Friedrichstraße/Leipziger Straße the "entertainment quarter" of old Berlin. They even got nicknames: "Unter den Linden" was "Laufstraße" (walking street), Leipziger Straße was "Kaufstraße" (shopping street), while Friedrichstraße was "Saufstraße" (boozing street).